Should you have someone on your holiday gift list that enjoys the art of canning and food preservation, or someone who has been wanting to give it a try, you will love this guide of special gifts for the home canner.
This post may contain affiliate links at no additional cost to you.  By making your purchases through the links on this website, IMSL may make a small percentage at no direct cost to you. IMSL only promotes products we use & truly believe in. Please refer to my Privacy & Disclosures for further information. IMSL thanks you for your support!
With the Holidays fast approaching, no matter the Holiday you celebrate, finding the perfect gift for our loved ones can at times be a bit overwhelming.  I love gifts from the heart.  Whether hand-made or hand-picked shopping locally, I love the kind of gifts that fit the individual to perfection.  The kind that immediately makes you think of that person in an "Oh, she/he would love that" kind of way. 
If you are crafty, wonderful hand-made with love gifts for the canner might include quilted pot-holders, knitted wash-cloths, sewn tea towels, or hand-made ornaments with a kitchen theme. 
Not crafty but want to make it a bit more personalized?  Maybe put together a basket of kitchen gadgets wrapped in a kitchen towel and tied with raffia. Personal gifts made from the heart are always my favorite to give and to receive.
Unfortunately, there are items needed for new canners to begin the process or items needing to be replaced for those already canning, that cannot be made.  This list is meant to give suggestions and maybe make the process a little less overwhelming. 
Click on any image you may be interested in to view in detail.  Have fun!
BOOKS FOR THE HOME CANNER
1. Journal
Consider a canning journal!  A journal can be a wonderful way for the canner in your life to view their successes as well as their "I don't think I'll try that one again" recipes.  Allows the canner to refer back year to year and compare amounts made and amounts needed for the following year.
2.  Food Preservation
Leda Meredith goes through every method of preserving food imaginable.  From freezing, drying, pickling, and canning to salted, smoked, and dehydration.  This book is for all levels of food preservation, from the beginner to the knowledgeable.
3.  Canning Methods
This book from the well-known "America's Test Kitchen" series, offers recipes on a smaller scale for those only wanting a pint or two of a product, with detailed photo's and instructions.  
This detailed guide to home preserving is perfect for novice canners and experts alike and offers more than 100 foolproof recipes across a wide range of categories, from sweet jams and jellies to savory jams, vegetables, condiments, pickles, whole fruits, and more.

Foolproof Preserving
Any canner cannot go wrong with the leader of the canning industry, Ball® and the wealth of information offered in any of their canning books.
CANNING GIFTS FOR THE HUMOROUS
1.  Kitchen Laughs
Bring a smile to the canner.  Who wouldn't enjoy wearing something like this when they break out the canning supplies? 
Or how about a play on words with a great kitchen towel?
Everyone loves a good mug!
2.  Wearable Laughs
Wearable canning humor, so everyone can enjoy! 
CANNING GIFTS FOR THE WHIMSICAL
What an adorable, ornamental gift for those you know can!
CANNING GIFT IDEA'S FOR THE GIFTER
1.  Decorative Jars
For the canners who like to gift their product, nothing presents better than unique and pretty jars!
Or these beautiful Italian jars!
2.  Labels & Tags
These tags will "guild the lily" when wrapping with these unique and pretty touches.  
OR
Especially nice for the farmhouse style wrappings.
GIFT IDEA'S FOR THE BEGINNER CANNER
When starting out as a canner there is a bit of investment that is needed for the appropriate tools to make the process easier and safer.  By setting up your kitchen or aspiring canner with these tools, you will be enjoying the "fruits of labor" for months to come!
1. The Necessities
These basic, essential tools are a must for any canner and will last for many years.  The only tool I need to replace every few years is the canning jar lifter.
Or if the budget allows, a wonderful high-end essential toolkit with stainless options.
This lifter is a great alternative when canners need to replace theirs.
2.  Water Bath Canners
The majority of new canners will begin using the water bath method of processing.  These large canners make the processing quick and efficient.
This 12 Qt water bath canner is wonderful for those canning on a smaller scale, yet still holds a respectable amount of jars to process.  This processor will hold up to 7 pint jars.
A 21.5 Qt water bath canner for those who process on a larger scale.  This processor will hold 7 one-quart jars, 9 one-pint jars or 13 half-pint jars.
3.  Jars and Lids
Although canning jars may be used year after year and reuse rims several times, the lids need to be replaced after each use.
You can purchase an assortment of sizes or determine the size preferred and select just those.  Any canner would welcome the gift of lids!
These little babies are wonderful to fill with jams and jellies when canning.  These are the perfect size when making homemade toothpaste or 
dried herb mixes.
These 1/2 pint jars are great for gifting jams and chutneys.  They also make perfect containers for those who make their own lotions, deodorants and the like.  Don't make your own yet?  Take a look at how easy they are to make and why with my posts, How To Make the Best Homemade Moisturizer For Dry Winter Skin,  How To Make The Best Homemade Toothpaste, How To Make The Best Natural Deodorant & Why.  
These pint jars are wonderful for a variety of product.  I use them for the jam and jellies that we use a lot of, salsa, and soups that I process.
Quart Size, wide mouth jars.  I tend to prefer the wide mouth jars as they are easier to fill.  I use the quart size for dill pickles (longer spears), whole tomatoes, and spaghetti sauce.  Also for products that you use larger portions of in recipes or ones that will keep for an extended time in the refrigerator.
These large 1/2 gallon size jars are what I use for my spaghetti sauce when I have all my quart size jars used.  They are wonderful when needing to use 2 jars of sauce in a recipe.
There are many, many more options for jars and the list could go on!  These are what I use every canning season and what I can recommend.
GIFT IDEA'S FOR THE EXPERIENCED OR ADVENTUROUS CANNER
For those canners who have some experience under their belt or those adventurous beginners that have been looking into different methods of processing, I invested in a VERY large pressure cooker several years ago.  It was my goal to reduce the processing time (for me less propane used) cutting my time from an average of 30-45 minutes to 15 minutes or less, reduce water consumption (water bath processing uses a lot of water), and increase the number of jars I could process at a time.  WIN, WIN for me and the environment!
That being said, these are costly.  For me, the investment was worth every penny with my overall savings, especially my time spent processing.  These pressure cookers are extremely well built, American made and will last for many years to come.  They come in many sizes ranging from 10.5 Qt all the way to 41 Qt.  My recommendation would be to get a larger model than what you think you will need.  Most beginner canners once started, only increase the amounts they process each year.
This 21.5 Qt pressure cooker is a great option for those that can on a smaller scale.  This cooker will hold approximately 21 1/2 Quarts (Liquid), 19 Pint Jars, 7 Quart Jars.
This monster is the cooker I chose, a 41.5 QT cooker that will process 32 pint jars or 19 quart jars at a time.  
This being said, you need to be aware and research if this option is viable with your stove model.  All American states that:
All American Pressure Canners are not recommended for use on glass top/ flat ranges without first checking with your stove manufacturer because their weight may cause the glass/ceramic to break. The 941 model is heavy and could cause damage to your range. The diameter of the canners are larger than most burners and may cause heat to transfer outward and damage the surrounding surface.
GIFT IDEA FOR THE ORGANIZED HOME CANNER
Getting organized, keeping track of all those wonderful home canned goods, is imperative to keeping it all straight. Especially for the organized home canner.
Consider the gift of canning organization with my canning management planner. With 15 beautiful printable pages which can be printed year-to-year, this organizational planner is just the thing for any home canner.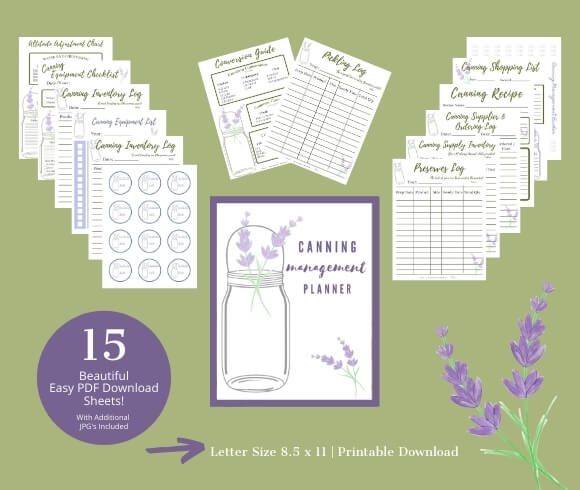 KITCHEN ESSENTIALS FOR THE HOME CANNER
These additional kitchen utensils and appliances are items that I utilize every canning season and make the processing easier and more efficient.
1.  Utensils
A spider makes quick work of processing whole tomatoes and more for canning.
I am honored to have the enameled hook ladle that my Grandmother used for her canning and use it every season.  It is very much like the one shown here and makes filling the jars easy and quick.
2.  Appliances
A must when weighing produce to determine recipe amounts, and the number of jars, lids, and seals needed
 for processing.  I particularly like that this scale comes with an optional AC adaptor making it a more sustainable option.
The time saved chopping, dicing, and mincing is incredible with the use of this appliance.  I highly recommend this model, it's one I have used for the past ten years and is still going strong.
This blender gets a good workout every summer during my tomato season especially.  You can read how and why I process my tomatoes quickly and efficiently using this blender here.
Hopefully, this has given you some thoughtful gift ideas for the canner in your life!  Be sure to share them with your friends on Pinterest! Have other suggestions?  Love to hear them in the comments below!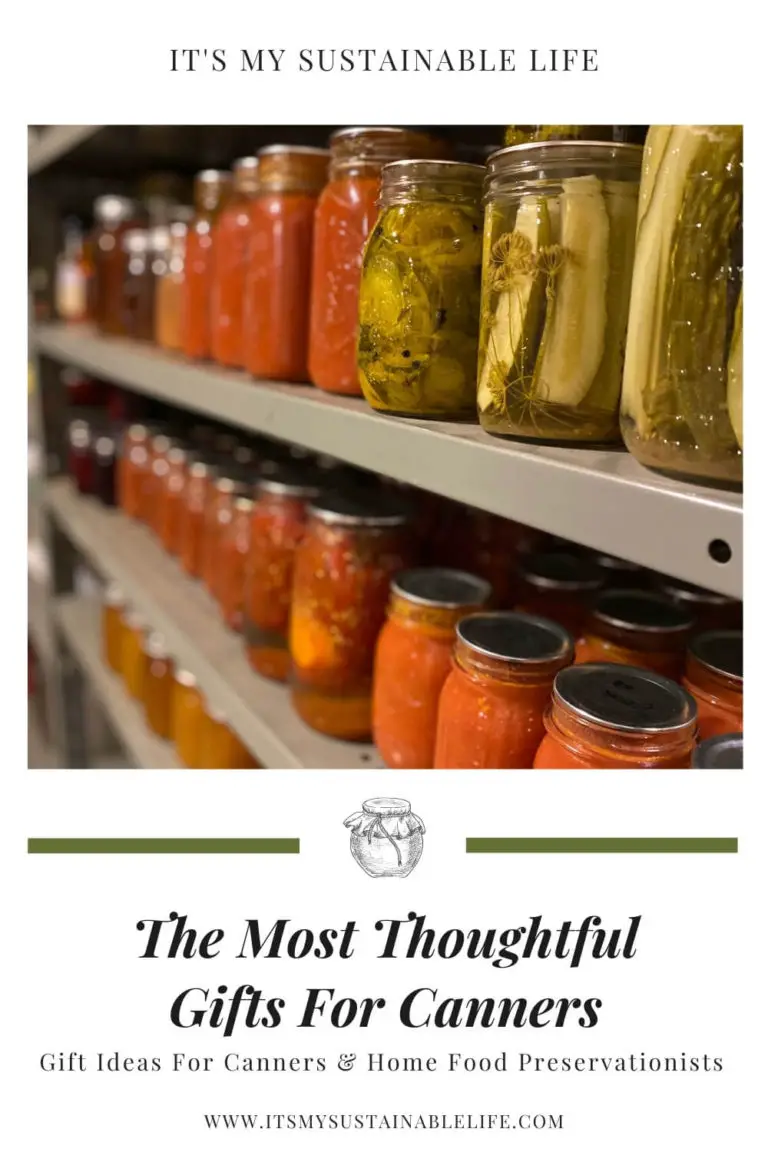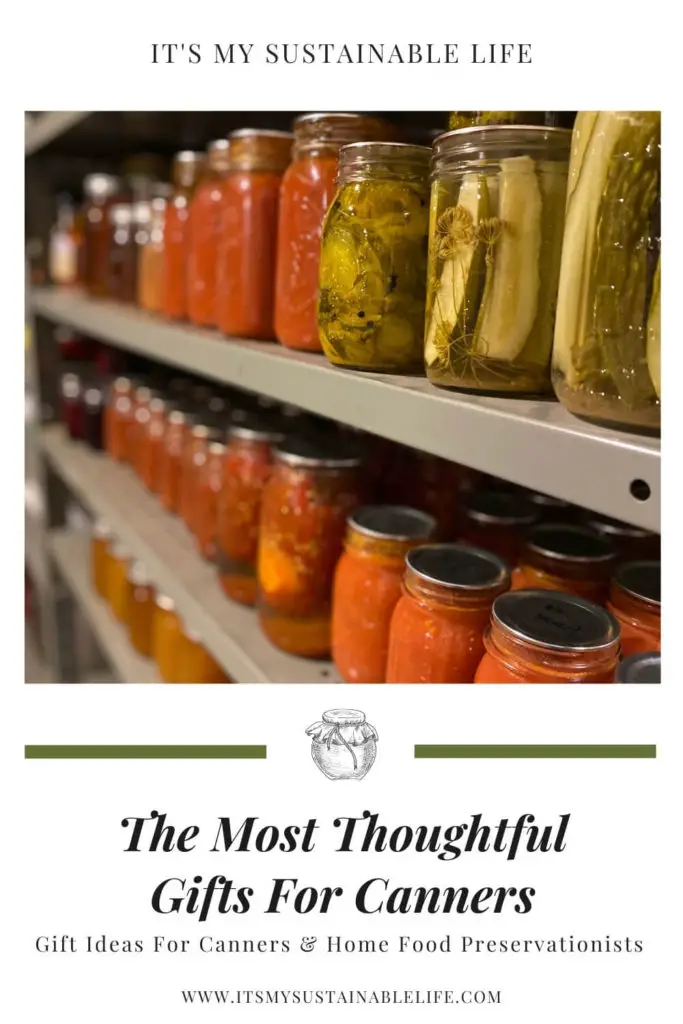 Be sure to subscribe to stay up to date with all IMSL's happenings here on the hill!
Be Well,
Suzan