No matter the occasion or time of year, this versatile easy to make pineapple salsa is sure to be a hit with all. A little bit spicy, a little bit sweet, and a whole lot of yummy, this pineapple salsa from fresh pineapple, can be served a multitude of ways.
This post may contain affiliate links at no additional cost to you.  By making your purchases through the links on this website, IMSL may make a small percentage at no direct cost to you. IMSL only promotes products we use & truly believe in. Please refer to my Privacy & Disclosures for further information. IMSL thanks you for your support!
Looking for an easy salsa recipe that meets the need for satisfying the sweet and the savory cravings? One that can be made as spicy or not as you like? A salsa that can be paired with fish (taco's anyone?), chicken, and even served simply with tortilla chips? Look no further…this one is for you.
This recipe is one of the favorites here on the hill, especially during the height of the growing season when our herbs are at their most fresh. The absolute favorite way to serve it? With a beautiful piece of swordfish grilled to perfection and a great dollop of this wonderful fresh pineapple salsa to top it off.
Although we call it a salsa, the texture is more reminiscent of a pico de gallo in all its chunky gloriousness 🙂 . No matter what you wish to call it, this pineapple salsa recipe is one that you will want to make again and again.
As with any dish, the end result is only as good as the ingredients you choose. Picking the freshest (best when in season) fruit, vegetables, and herbs will take this recipe to the next level. Although you can use pre-cut fresh pineapple in a pinch, albeit more moola but quicker & more convenient, it is not recommended to use canned pineapple as it's too watery for this use.
HOW TO SELECT FRESH PINEAPPLE FOR SALSA
Picking out the best fresh pineapple for your pineapple salsa can be a daunting task for many. Just look at the fruit itself! The fruit is covered in spiny hairs that create an amazing diamond-like pattern, many with a mottled and sometimes yellow exterior. To top it all off..literally, it's crowned with a glorious display of leafy greens. With all this going on, how is one to pick the best?
Picking out the right fresh pineapple is easier than the actual pineapple's presentation for sure. A few obvious things to keep an eye for are:
Look at the bottom of the fruit. If it's green or yellow, proceed. If it's brown, pass.
Both green and yellow can mean the fruit is ripe.
Give the fruit a gentle squeeze. It should have some light "give" but not feel mushy.
Check the fruit over for any bruised or mushy spots. If found, pass.
Use your nose…literally. Smell the bottom of the fruit. It should have a sweet distinct pineapple scent. If you detect any kind of "fermented" scent (almost that of kombucha), pass.
WAYS TO USE PINEAPPLE SALSA
There are a myriad of ways you can use this pineapple salsa.
Serve as an appetizer along with tortilla chips. Maybe pairing it with your favorite margarita…just sayin'.
Tacos…think fresh grilled cod, haddock, or any other favorite.
An accompaniment to any Mexican dinner theme…think carne asada.
Atop grilled swordfish, grouper, mahi mahi, or fish of your choice.
Atop grilled chicken, pork, or beef.
Fresh out of the bowl….yup, done it 🙂
INGREDIENTS NEEDED FOR PINEAPPLE SALSA
To make this salsa have ready the following:
Fresh Pineapple – medium to large size
Red Pepper
Red Onion
Fresh Mint
Fresh Cilantro
Garlic
Crushed Red Pepper or Med. Size Jalapeno
Fresh Ginger
Frozen OJ Concentrate
Fresh Lime
STEPS TO MAKE PINEAPPLE SALSA
Dice the fresh pineapple, a full generous 2 Cups are needed. If you've never cut a fresh pineapple, simply lay the pineapple on its side & cut the top and bottom off creating a nice flat surface so the pineapple will remain stable when cutting off the sides. Place the pineapple upright and slice the sides off. The core is tough and fibrous & will need to be removed. To remove, simply slice the pineapple as near to the core as possible around all sides and discard the core.
Dice 1/2 Cup red onion and 1/2 Cup red pepper.
Finely mince 1 clove of fresh garlic, 1/4 cup each of fresh mint & fresh cilantro and add to the mix.
Add the remaining ingredients, 1/4 tsp crushed red pepper, 1/4 tsp grated fresh ginger, 2 Tbl frozen orange juice concentrate, 2 Tbl fresh lime juice. Mix all the ingredients in a large bowl, cover & chill until use.
SPECIAL NOTES FOR YOUR PINEAPPLE SALSA
Spice Level – Spice level can easily be increased or decreased according to your taste buds. We would recommend using the amounts listed for the crushed red pepper and adjusting from there. If using jalapeno, reduce the heat by simply removing the inner ribs and seeds. Leave them in for more heat.
Be Adventurous – This base recipe can easily be altered using the fruit of your choice. Think mango, peaches, or strawberries for a flavorful fruit-based variation. Add cucumber for a bit more crunch factor.
This is a simple recipe that really packs a punch and will impress any who sit at your table any time of the year. Do you have a favorite pineapple salsa recipe that you already make? Tried this recipe? Join the conversation and share your thoughts!
Love, Light, & Laughter ~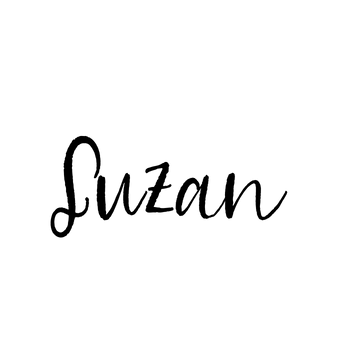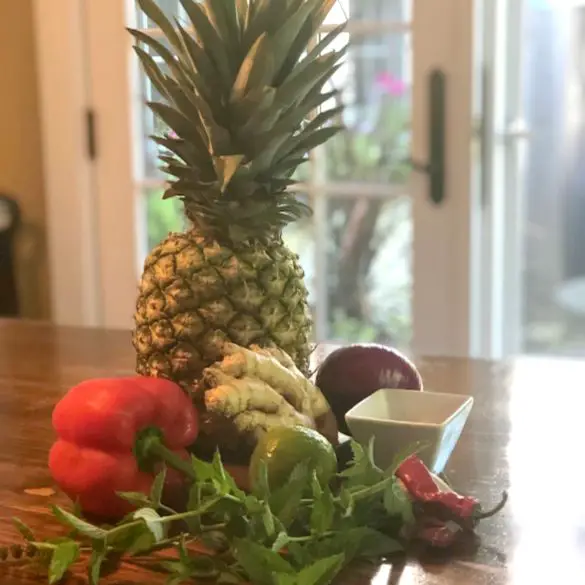 Ingredients
2 C Fresh Pineapple chopped

1/2 C Red Pepper minced

1/2 Red Onion minced

1/4 C Fresh Mint finely chopped

1/4 Fresh Cilantro finely chopped

1 Garlic Clove minced

1/4 tsp Crushed Red Pepper

1/4 tsp Fresh Ginger grated

2 Tbl Frozen OJ Concentrate as is

2 Tbl Fresh Lime Juice
Notes
Combine all ingredients together & mix well.  Refrigerate until use.