Ever wonder how you can make your own real homemade marshmallows from scratch? Homemade marshmallows are simple to make using just a few ingredients you may already have in your pantry. CAUTION!!! Once you've tried them you may never want store-bought again!
This post may contain affiliate links at no additional cost to you.  By making your purchases through the links on this website, IMSL may make a small percentage at no direct cost to you. IMSL only promotes products we use & truly believe in. Please refer to my Privacy & Disclosures for further information. IMSL thanks you for your support!
It's firepit season here in the Northeast and what more iconic food can be enjoyed at any outdoor fire than s'mores? Problem being, we like to consume our food organically as possible. Foods that steer clear of GMO's & unwanted chemicals. As organic marshmallows are not easily found…are they even made?…what's one to do? Make our own of course 🙂 .
WHAT ARE MARSHMALLOWS ANYWAY?
Marshmallows are one of those curious foods. As a kid, these fun, light & fluffy square orbs of "nothingness" could be eaten in one bite, especially when squeezed & smushed creating a very small piece that could be sucked on forever 🙂 . But what are they exactly?
Marshmallows are made simply of a binder such as gelatin & sweeteners. Period. Store-bought marshmallows may contain carrageenan or agar agar as the binding agents.
When making homemade real marshmallows, gelatin is the typical binding agent. Vegans do have the option of utilizing agar agar in lieu gelatin using a 1:1 ration for recipe substitution.
FAVORITE WAYS TO USE HOMEMADE MARSHMALLOWS
What are the favorite ways to use our homemade marshmallows? First and foremost, as stated s'mores. Who doesn't love spending time by a fire, roasting them to a golden brown (a preferred way here on the hill)?
And then letting all that gooey goodness mix with melting chocolate & crunchy graham crackers? Just sayin'.
What else are they wonderful in? Of course, hot chocolate, but they can be used in so much more. Take a look at my homemade hot chocolate mix recipe, it's an amazing compliment to these homemade marshmallows, just sayin' 🙂 Desserts…think rice crispy treats or candies or fudge. Using the marshmallow mixture before it's set up makes a great substitute for Fluff in peanut butter sandwiches.
VARIATIONS FOR HOMEMADE REAL MARSHMALLOWS
The traditional way to make real homemade marshmallows is by using vanilla. The beauty of making them yourself is that you can make them with literally almost any flavor you can think of.
Adding homemade Kahlua is a wonderful compliment to s'mores or hot chocolate for adults. Be sure to check out how to make your own Kahlua with this simple recipe. Or what about chocolate flavored or strawberry flavored or even cherry flavored. Such compliments to the chocolate!
HOW TO MAKE HOMEMADE MARSHMALLOWS
Now that your palate is ready for some of these yummy treats, how do you actually make them? As stated, they could not be easier. They literally take about 15 minutes to make…and they may last about just that long 🙂 . The hardest part may be in the gathering of the ingredients and supplies you need to create them.
INGREDIENTS
For this recipe, you will need the following ingredients & equipment:
.75 oz each of unflavored gelatin = 3 packages of Knox (this equals a total of 6.75 – 7 tsp or 21.6g total (*note: this was what was available locally when we decided to try these. Our next batch will be made with Great Lakes Gelatin. This gelatin is non-GMO, Keto & Paleo friendly, & made from grass-fed/pasture-raised beef in a sustainable way)
1/2 C cold water
2 c granulated sugar
2/3 c light corn syrup
1/4 c water
1/4 tsp salt
1 Tbl pure vanilla extract (or flavoring of your choosing)
Confectioner's sugar – at least one cup
1/2 C cornstarch
9×9 or 8×8 inch pan (lightly greased with non-stick cooking spray, shortening, or light oil)
Mixer
Medium size saucepan
Candy Thermometer
VEGAN HOMEMADE MARSHMALLOW ALTERNATIVE
It's simple to transform this recipe & make a vegan version! Simply substitute agar agar powder in the same quantity as the recipe calls for the powdered gelatin! Notice it's the POWDER not the flakes! If you are using agar flakes, substitute the gelatin with 3 times the amount of flakes.
HOMEMADE MARSHMALLOWS WITHOUT CORN SYRUP
Can you make this recipe without the use of corn syrup? YES! Simply leave it out. We initially made these using organic corn syrup. However, we plan on leaving it out this fall when making them once again for our outdoor Winter Solstice celebrations!
TO MAKE HOMEMADE MARSHMALLOWS
In the bowl of your mixer, combine the 3 packets of gelatin over the 1/2 cup of cold water. Let the gelatin soak for several minutes and then whisk until well combined.
Combine sugar, corn syrup and 1/4 c water in the medium-size saucepan. On medium heat, whisk until the sugar is dissolved. Attach your candy thermometer and bring to a low boil until the temperature has reached the "soft-ball" stage, approximately 235 to 245 F.
PRO TIP: An alternative method according to The Spruce Eats to determine if you have reached the soft-ball stage is by dropping a spoonful of the hot syrup into a glass of very cold water. The cooled syrup should be able to be easily gathered with your fingers into a ball-like shape.
Add 1/4 tsp salt & 1/2 tsp vanilla or your preferred flavoring to the gelatin and give it a quick whisk to combine.
Turn the mixer on to low and begin to very carefully pour the sugar mixture into the gelatin. Turn the mixer to high and whisk to form soft peaks.
It's fun to watch the transformation. Below is approximately 4-5 minutes whisking.
Soft peak stage is found below & ready to transfer into your greased pan. The mix was whisked for a total of 8-10 minutes to reach this stage.
It is highly recommended to use shortening to grease your pan. This method worked flawlessly. If using an oil, you may want to line your pan with parchment paper as well and grease both the pan and the paper to prevent sticking.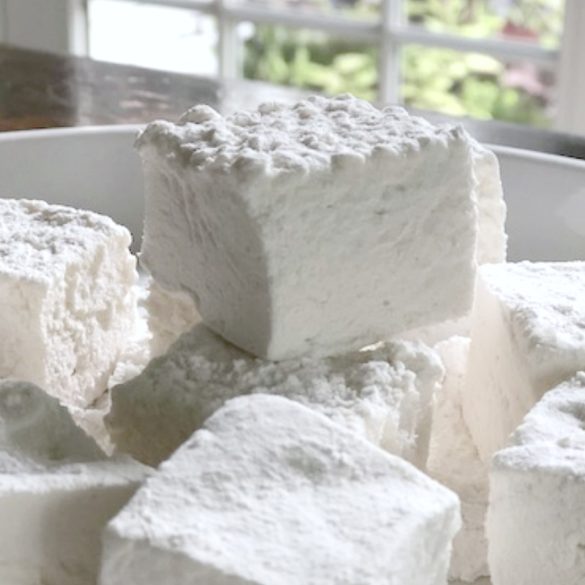 Ingredients
.75 oz each of unflavored gelatin = 3 packages of Knox (this equals a total of 6.75 - 7 tsp or 21.6g total)

1/2 C cold water

2 c granulated sugar

2/3 c light corn syrup

1/4 c water

1/4 tsp salt

1 Tbl pure vanilla extract (or flavoring of your choosing)

Dusting Powder: 1 C confectioner's sugar & 1/2 C cornstarch
Instructions
 Combine gelatin with 1/2 C cold water in bowl of mixer.
Whisk to combine well.
In medium saucepan, combine sugar, corn syrup, & 1/4 c water.  Bring to slow boil until it has reached the soft-ball stage.
Add 1/4 tsp salt, and 1 Tbl Vanilla to the gelatin mix.  Whisk to combine.
Slowly add the hot sweetener to the gelatin, whisking on low to combine.  
Turn the mixer to high and mix for 5-10 minutes until the mixture forms soft peaks and is fluffy.
Prepare utensils and pan by greasing thoroughly with shortening.
Scrape the mixture into the prepared pan spreading evenly.
Sieve confectioners sugar on top of marshmallow & allow to set for at least 6 hours.
Turn the marshmallow out onto a work surface that has been dusted with 1 c confectioners sugar & 1/2 c cornstarch, creating a dusting powder, that has been mixed.  Cut to your shape & size.  
Dust the cut shapes all around with the dusting "powder"
Store in an air-tight container.
Notes
Equipment: 9x9 or 8x8 inch pan (lightly greased with non-stick cooking spray, shortening, or light oil) Mixer Medium size saucepan Candy Thermometer
DOES SIZE MATTER WITH HOMEMADE MARSHMALLOWS?
When choosing your pan size, take into consideration how "tall" you want your homemade marshmallows. The 8×8 inch pan will create a higher-end result, the 9×9 inch a shorter end result. If you want to make cutout shapes or very shallow real marshmallows, choose a 9×13 inch pan.
PRO TIP: Homemade marshmallow mix is VERY sticky! We highly recommend that you grease any utensils you use to transfer the mixture from the mixing bowl into your pan AND when cutting the marshmallows.
It's best to let cure for at least 6 hours…the hardest part of making these by far 🙂 . DO NOT SKIP THIS STEP! The mixture needs the time to set to allow for ease of cutting.
After the allotted time, remove from the pan onto a work surface dusted with the confectioners sugar & cornstarch mix. Cut into your preferred shapes and sizes dusting & coating with confectioners sugar as you go.
REMINDER: Coat your knife or cutting utensil with shortening to prevent sticking!
STORING YOUR HOMEMADE MARSHMALLOWS
These fluffy, sweet little squares of happiness can be stored in an air-tight container. They DO NOT need to be refrigerated for storage.
When considering your next gathering around the fire, celebrating a holiday or event, or just "because", consider making these simple marshmallows. You'll never go back to store-bought again 🙂 .
Have you given this recipe a try? Be sure to stop back and give it a rating and let us know your thoughts!
Love, Light, & Laughter ~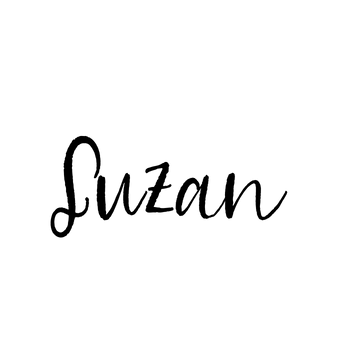 This recipe was featured at Charming Homes & Gardens & Embracing Home & Family!