Making this easy homemade hot chocolate mix to have on hand or give as gifts will have you enjoying a mug of hot chocolaty richness in no time flat.
This post may contain affiliate links at no additional cost to you.  By making your purchases through the links on this website, IMSL may make a small percentage at no direct cost to you. IMSL only promotes products we use & truly believe in. Please refer to my Privacy & Disclosures for further information. IMSL thanks you for your support!
There may be nothing as satisfying as coming in from the elements & enjoying a steaming, hot mug of homemade hot chocolate. At least for me there isn't. I love chocolate. Always have.
I remember as a young child coming in from the outdoors, ripping open a packet of hot chocolate mix (you know the one I'm speaking of), adding hot water, and enjoying, well, a watery chocolate flavored drink. It was hot. It was convenient. I now know better 😉
Fast forward just a few years, & my knowledge of what a real, rich & creamy hot chocolate should really taste like has somewhat expanded. Thank goodness!
As with almost everything here on the hill, we enjoy certain foods & transform them into our own version of organic, healthier choices. I tend to research. Everything. Especially when it comes to our food choices.
WHAT'S HOT CHOCOLATE MADE OF
Hot chocolate is no different as far as foods go. It's a processed, pre-packaged, "convenient" food. When looking at the ingredients of conventional hot chocolate mixes, let's just say a big no thank you!
A few of the "ingredients" I found are not something I wish to ingest or have my family do so either!
"Cocoa Processed With Alkali" – I have to say, this was a new one to me. What the heck does that mean? Well, it means that the natural cocoa has been processed chemically to reduce the acidity levels and artificially enhance the color of the cocoa making it appear more chocolaty. Really? No thanks.
Corn Syrup – Anytime there is a "formula", a scientific formula, for "food" I run as fast as I can in the other direction, just sayin' 🙂
Hydrogenated Oils – Palm kernal, coconut, and/or soybean. Enough said? Increased health risks & increased environmental issues stem from the use of these oils.
And then we have a bunch of "ingredients" that I can't pronounce. Oh, and did I mention that it contains "milk ingredients". What? Time to take control and make our own thank you very much.
HOW TO MAKE HOMEMADE HOT CHOCOLATE
Making your own homemade hot chocolate mix literally takes about 5 minutes of your time. It can be made as a single cup or in bulk (I will give both options below), and makes a wonderful edible gift as well!
Holding an outdoor gathering this winter? Maybe to celebrate the winter solstice or a sledding party? Make a special homemade hot chocolate version & use your crockpot! My version of this wintery treat below. Add a table with a few flavoring options that I've listed & you've become your own barista!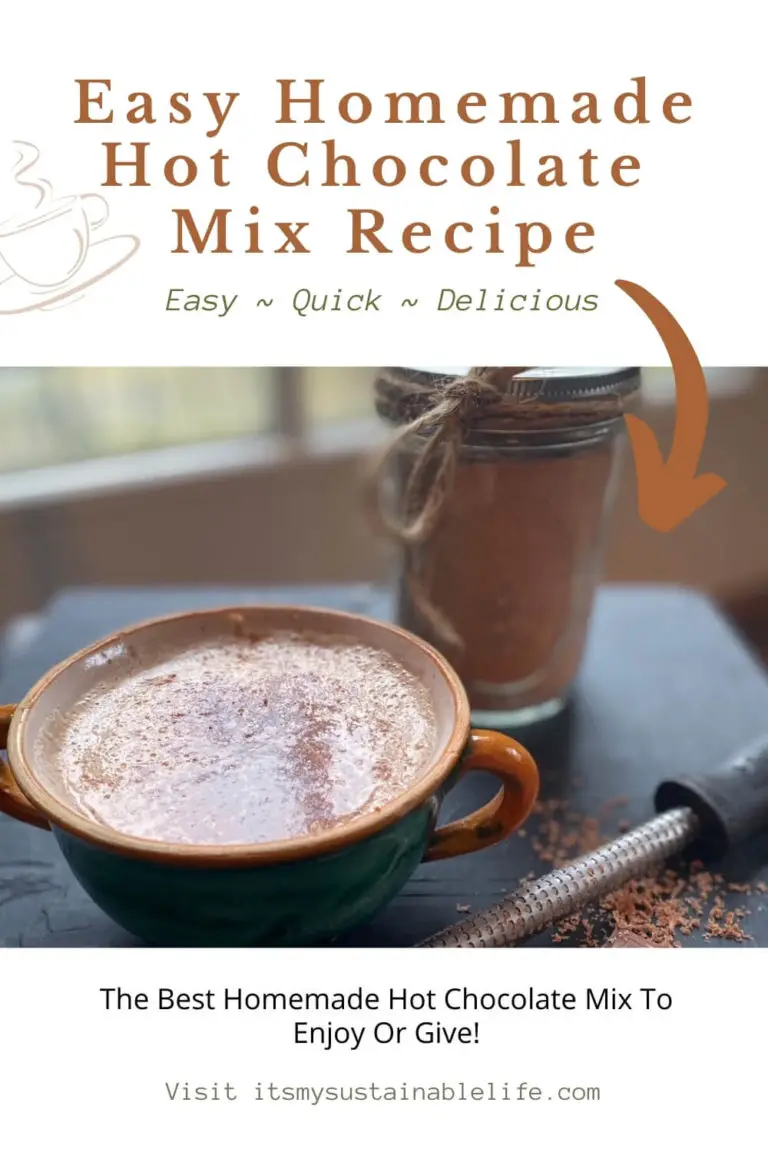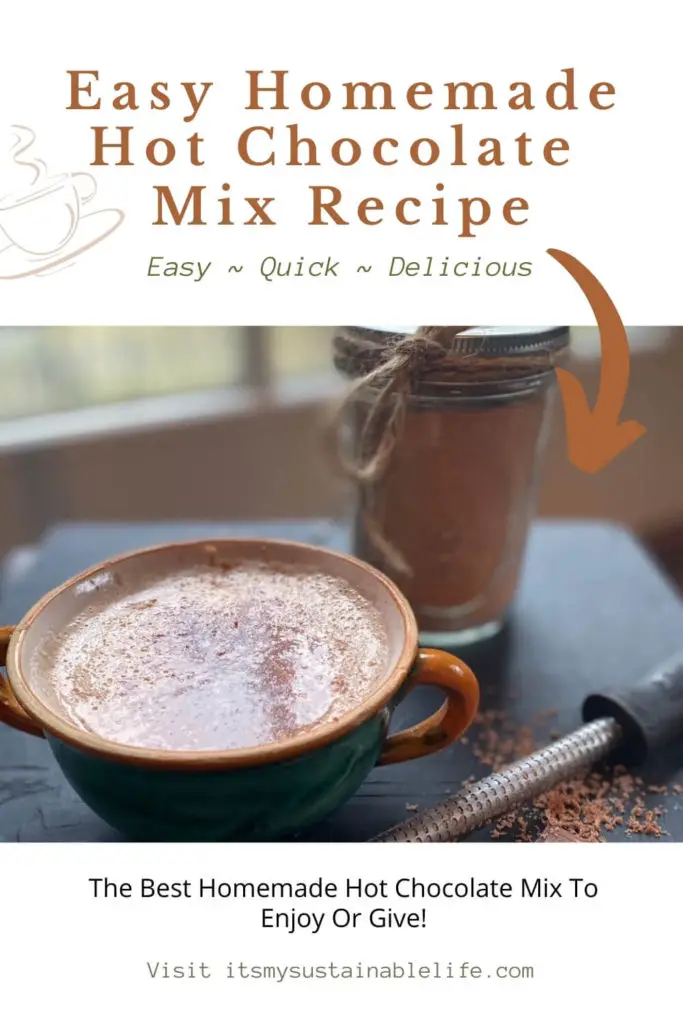 Did I mention this mix is versatile? By adding a few additional spices and/or flavorings to your mug, you will have created a unique, flavorful chocolaty treat that will rival any coffee house.
WHAT'S GOOD TO PUT IN HOT CHOCOLATE
A few favorites? See below….
Chocolate & Peppermint – Add a good dollop of homemade whipped cream & sprinkle with crushed peppermint candies for a uniquely delicious touch or simply add a festive candy cane to your mug
Rich Chocolate – Prefer an even richer hot chocolate? What about an Italian version, "Cioccolata Calda", so thick & decadent, it's almost like a pudding according to my friend Michelle over at the Brown Eyed Baker
Homemade Marshmallows – Like it the traditional way with a few homemade marshmallows floating on top? See my easy to make "Homemade Marshmallow" recipe
Chocolate Bark – Add a good size piece of your favorite chocolate bark (peppermint, s'mores, or mint would be good)
Spice – Like it a bit spicey? Add a pinch of cayenne pepper or cinnamon, or make a fall version by adding pumpkin spice, cinnamon & nutmeg
Adult Version – Looking for an adult version? Create a spiked version and add your favorite rum or my homemade kahlua is a delicious option
Oh, so many options to choose from. No matter which flavoring you go for, or just leave as is, this homemade hot chocolate will leave you craving more.
BEST HOMEMADE HOT CHOCOLATE MIX
Assembling this mix is as easy as gathering just 4 ingredients, one of which is optional. Cacao, sugar, powdered milk, and salt (optional). I have also listed additional ingredients you may want to add at your leisure.
Cacao – I prefer using organic cacao over cocoa powder. Why? It's healthier for you. Take a look at my article on why to choose dark chocolate for all the reasons why I believe that is the case. You can easily substitute cocoa powder, however
Sugar – You have a choice here of which form of sweetener you prefer. Granulated or powdered. I have seen others who has substituted other sweeteners, but I have not tried any alternatives. I have used granulated in this mix as I find the powdered a bit too sweet for me. However, by using the powdered or confectioners sugar, the end product will be slightly thicker as this form of sugar is processed with cornstarch or potato starch, both thickeners
Powdered Milk – Using a powdered milk, no matter if you choose non-fat or whole, brings a creaminess to the end product. NOTE: You may choose whatever form of powdered milk. To make this vegan friendly simply choose an almond or soy-based milk powder.
*Salt – Salt is an optional ingredient, but I find by using just a bit it lifts the flavors
*Cornstarch – Alternatively, should you enjoy a much thicker hot chocolate, adding a bit of cornstarch will do the trick
EASY HOMEMADE HOT CHOCOLATE MIX RECIPE
This recipe will make 1 pint of homemade hot cocoa mix. A printable recipe card can be found below.
To make, place the following in a mixing bowl & combine well. To find some of my favorite brands click on the highlighted item.
When combining the dry ingredients, I find it helpful to use a wire wisk so that all the ingredients are well incorporated.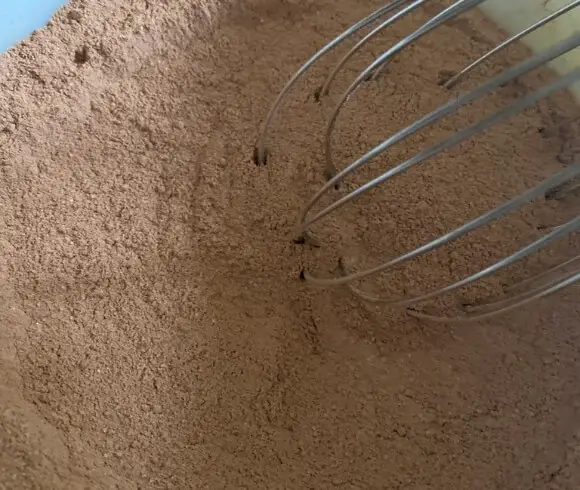 Add the dry homemade hot chocolate mix to a decorative jar, I've used an old mason jar for this purpose, seal, and store indefinitely!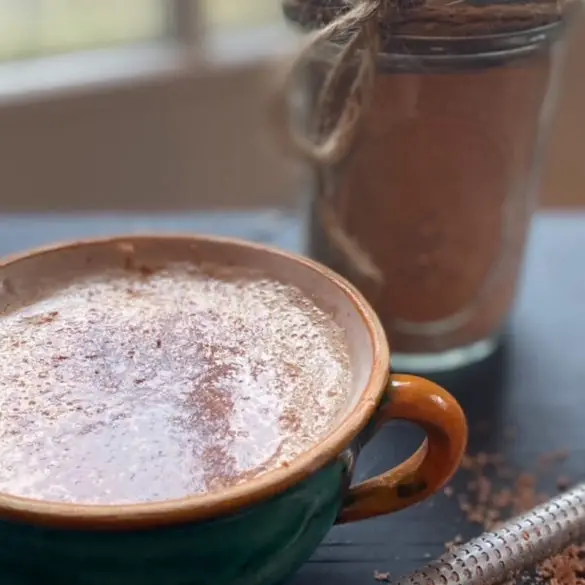 Ingredients
3/4 C Sugar

1/2 C Cacao Powder or Cocoa Powder, unsweetened

3/4 Powdered Milk of Choice

*Optional 1/8 tsp Salt

*Optional Grated Chocolate to taste

*Optional Vanilla Extract approximately 1/8 tsp per mug

*Optional 1/2 tsp Cornstarch as thickener (I don't add this as I find the original recipe fine without it)
Instructions
In a mixing bowl combine well using a wire wisk the sugar, cacao, and powdered milk.  Optional ingredients are listed and need to be well incorporated. Place dry mix in an air-tight glass jar and store indefinitely.  
TO USE: Add 2 Tbl of the homemade hot chocolate mix into 1 C of Milk of your choice.  Slowly heat on medium heat or in a microwave.  Serve as desired.  
MAKE A CUP OF HOMEMADE HOT CHOCOLATE
The beauty of making this mix? It's ready when you are. To enjoy a mug, simply take 1 C Milk of your choice (I use whole milk) & place into a small pan. To this, add 2 Tbl hot chocolate mix and a dash of vanilla if you like. Heat slowly over medium heat, pour, and enjoy!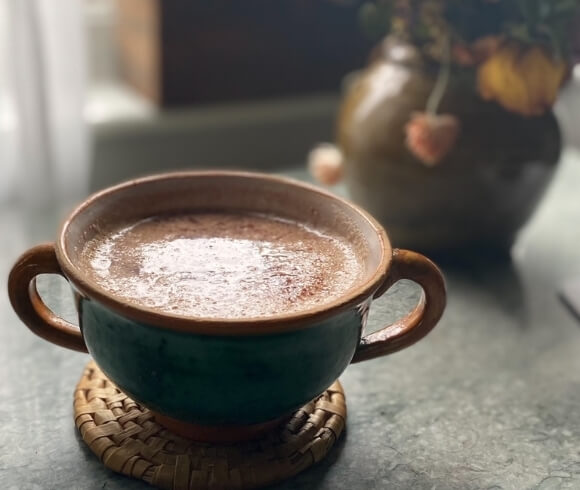 I love to grate my favorite chocolate on top. After all, you can never have to much chocolate in my humble opinion.
GIFT HOMEMADE HOT CHOCOLATE MIX
This may be one of the easiest homemade edible gifts you can give. Make it festive, add to a gift box, or give individually. Most anyone will appreciate a little chocolate in their day 😉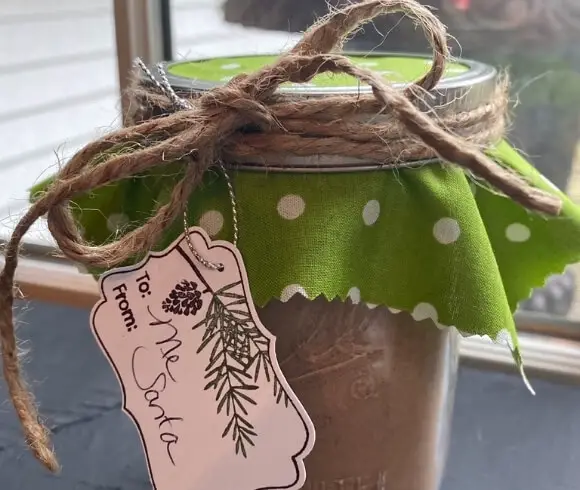 I've created these cute gift tags (my bad that I didn't have them done for the photo above) as my gift to you. I hope you find them as fun to use as they were to create! NOTE: The pdf tags will not show the hole & string 😉
Be sure to grab yours, simply click the button below and print the FREE PDF! It's easy to do, & is my gift to you, no email required!
Download by clicking on the button below, the downloaded file will typically show up in your download file folder. Print onto card stock, cut out, punch a hole, add a string (I like to use butcher twine) & enjoy!
Looking to add a recipe card to your gift? Take a gander at these adorable farm inspired recipe cards! These cute cards, 5 farm inspired choices, are easy to download and print as many times as you need! Available in our Etsy shop now!
HOMEMADE HOT CHOCOLATE MIX IN BULK
If you are like many, when they give homemade gifts they need to make a lot. And I mean A LOT at once. As this recipe is so easy and quick to make, it makes the perfect choice of gifting when you are making, well, a lot of gifts 🙂
This recipe is easy to increase to your desired amounts and can be made in bulk. The stated recipe makes 1 pint. I feel the pint size is perfect for sharing, but you be the judge. Simply convert the amounts needed to the number of recipients when making this mix in bulk.
USING HOMEMADE HOT CHOCOLATE MIX IN THE CROCK POT
Need to make this homemade hot chocolate for a crowd? Making a hot chocolate crock pot version is a fantastic way to put a special twist on the classic.
Personally there are many recipes out there for creating crock pot hot chocolate. But if you already have your mix made, why not use it?
When making in large quantities like a crock pot, add 8 Tbl of the pre-made homemade hot chocolate mix to one quart of milk of your choice. Stir well to combine thoroughly. The mix will disolve as the milk is heated a bit more easily than when cold, so stir frequently.
Looking to make an even more decadent hot chocolate? Add your favorite chocolate and allow to melt. Add heavy cream to make it even richer (I would start with 1/2 cup per quart), and don't forget to add the vanilla (approximately 2 tsp per quart).
There really is no right or wrong. The options are endless. Love to hear all about how you make your own homemade hot chocolate mix, or better yet, how you enjoy mine 😉
What's your favorite way to enjoy this sweet treat?
Love, Light, & Laughter ~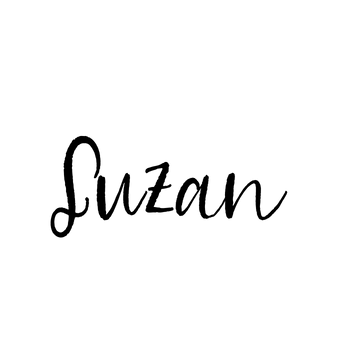 Enjoy this article? Please consider sharing it on your favorite social media channel! Want more? Subscribe below for the occasional update with all the "happenings on the hill"!