Honey fermented garlic, a healthy fermented food, may be one of the easiest & tastiest home remedies one can make. Did we mention tasty? Honey fermented garlic, aka fermented honey garlic, may be the best example of "let food be thy medicine".
This post may contain affiliate links at no additional cost to you.  By making your purchases through the links on this website, IMSL may make a small percentage at no direct cost to you. IMSL only promotes products we use & truly believe in. Please refer to my Privacy & Disclosures for further information. IMSL thanks you for your support!
IS HONEY FERMENTED GARLIC THE SAME AS FERMENTED HONEY GARLIC?
You can say that honey fermented garlic is like a coat with many colors by name. Also known as "fermented honey garlic", "infused garlic honey", and even the reversed "garlic infused honey", we here all the hill just like to call it good :). No matter what you call it, it's all the same. An efficacious, nutritious, and did I mention delicious, home preventative.
Using only 2 ingredients, this sweet, slightly garlicky product can be used in culinary dishes as well as a home remedy for seasonal issues. It's especially a great way to utilize any garlic bulbs you may have grown and not used come spring!
Don't grow your own? See how easy it is with our two articles, "Amazing Garlic: How To Plant For Next Years Crop" and "Amazing Garlic – Harvesting, Drying & Storing". You can thank me later 🙂
WHAT IS HONEY FERMENTED GARLIC
Fermented foods, aka zymology or zymurgy (who knew?) are defined as foods that…
What does that mean exactly? Basically (in a very un-scientific explanation) fermentation is the process of molecules being broken down anaerobically (pretty much the foaming that occurs during the process). As our claim to fame certainly doesn't include that of scientist, the bottom line is, for us anyway, fermented foods are good for us.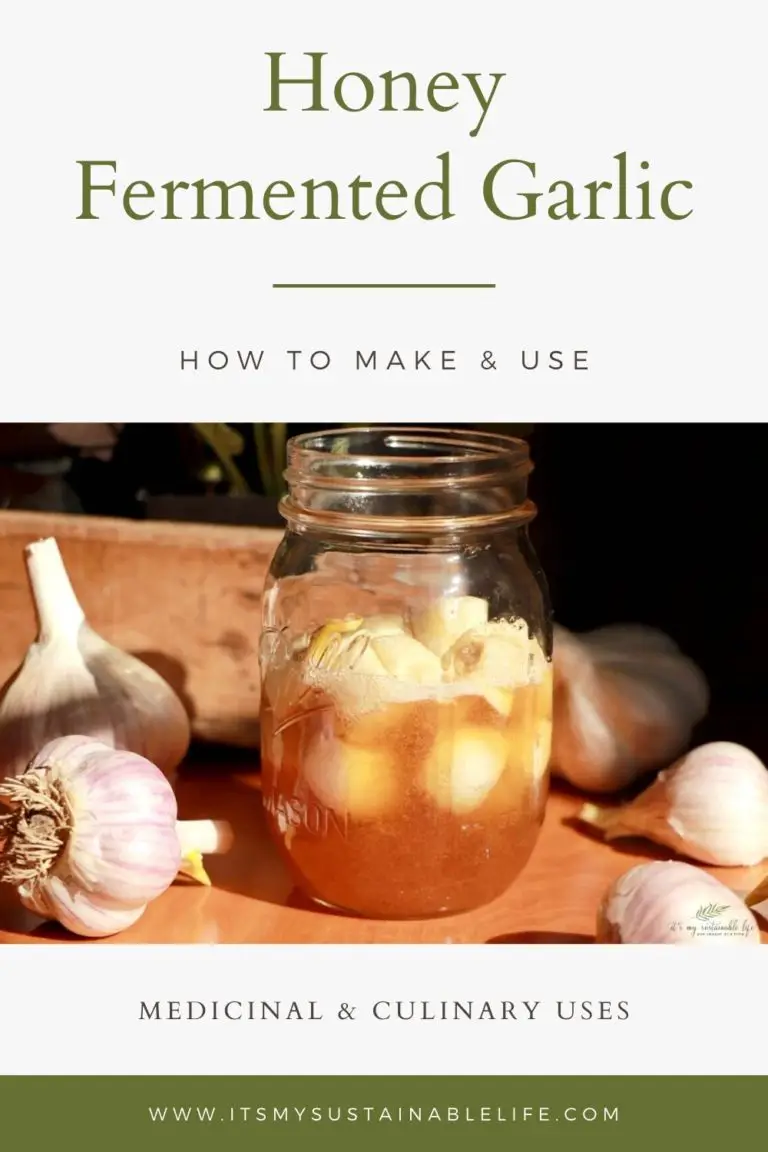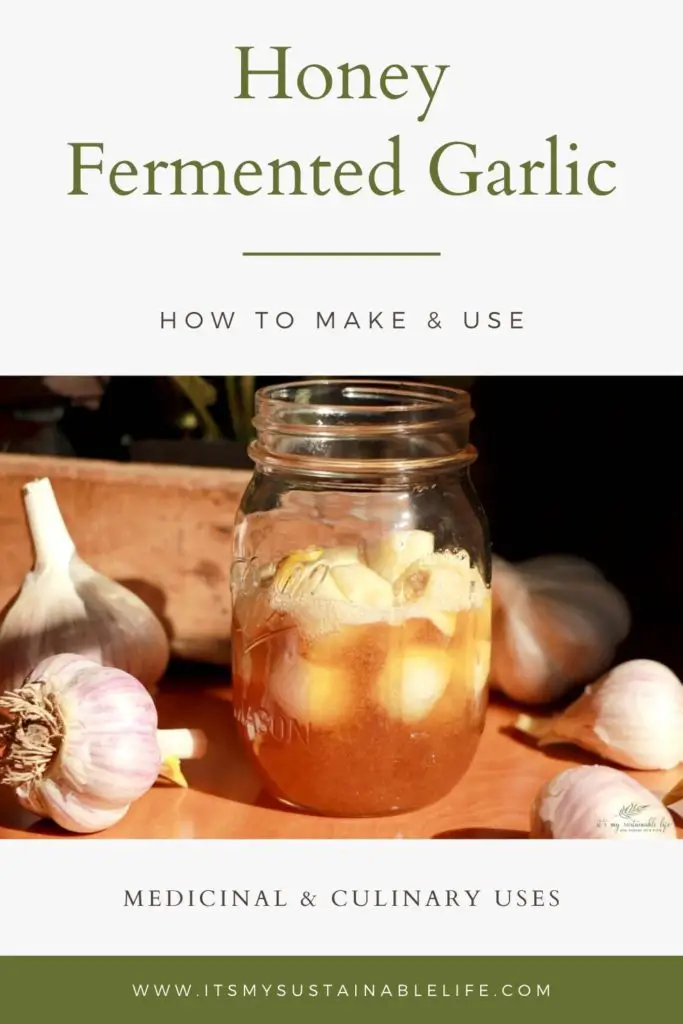 Honey fermented garlic is no different. The health benefits of this combination of honey & garlic, both considered "prebiotics", promote healthy gut bacteria, thus, leading to many health benefits overall.
HEALTH BENEFITS OF HONEY FERMENTED GARLIC
In general, the health benefits of incorporating more fermented foods into your diet are many. They not only extend the shelf life of many foods but also may reduce the risk of cardiovascular diseases, high blood pressure, and inflammation.
Honey fermented garlic is no different. But this specific combination does merit a further look as to why it's so beneficial.
HEALTH BENEFITS OF GARLIC
Garlic, a vegetable from the Allium family, has been used for centuries for its medicinal properties.
Containing large amounts of sulfur compounds formed when the garlic clove is crushed, chopped, or chewed, Allicin is the star compound that gives it its antibacterial & disease fighting properties.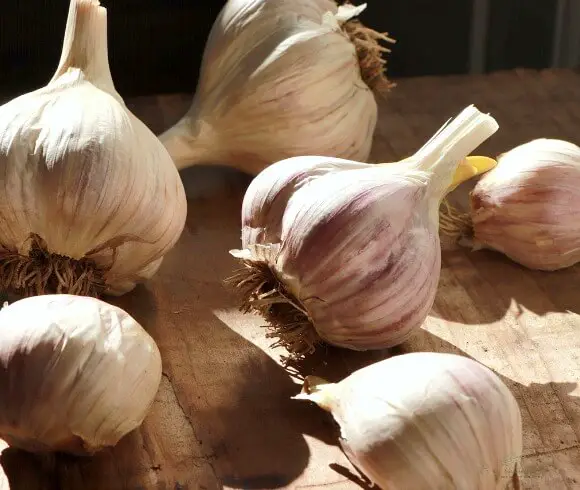 This low calorie, nutrient rich vegetable is also know to contain antioxidants which can prevent or slow cell damage caused by free radicals (unstable atoms that can cause cell damage).
Point being? Garlic is healthy for you, delicious, & contains many medicinal health benefits.
HEALTH BENEFITS OF HONEY
The health benefits of honey are many. Filled with antioxidants (flavonoids & polyphenols), honey naturally can reduce inflammation in the body (what we believe is the foundation of disease). Containing antibacterial, antiviral, antiseptic, and antifungal properties, honey has been used throughout civilizations as both food and medicine.
The science community is only now beginning to understand honey's potential. The possibility of honey's ability to help reverse bacterial resistance to antibiotics is now being looked at.
Bottom line, these two ingredients make for a powerful home remedy for colds & flu issues. Just sayin' 🙂
HOW TO MAKE HONEY FERMENTED GARLIC
Honey fermented garlic is so easy to make.
HONEY FERMENTED GARLIC – PREPARE THE GARLIC
Simply prep your garlic cloves by peeling them. The easiest way to do this is to cut the root end (the flat end) off and give the clove a good smash with the side of your chef knife.
This accomplishes two things. It loosens the skin for easy removal & it breaks the garlic clove a bit to help release its beneficial oils that will help the fermentation process along.
Place your peeled garlic cloves into a jar of your choice. We like to use a small pint mason jar with a reusable plastic cover like the ones shown below.
Don't overfill your jar. You need to leave room for a bit of expansion and not have it overflow during the fermentation process.
Typically, we fill no more than 1/2 to 3/4 full with garlic cloves.
HONEY FERMENTED GARLIC – ADDING THE HONEY
Using raw honey only, cover the cloves of garlic. The cloves may float to the top, that's ok.
It's very important that you use raw honey only for several reasons. Raw honey contains naturally occuring yeast and bacteria that is necessary for the fermentation process to be successful. The juice that is released from the gently cracked cloves of garlic will allow for fermentation.
HONEY FERMENTED GARLIC – COVER & TURN
Cover the jar loosely with a lid, place on a plate to capture any overflow that may happen, and place in a dark cupboard. Fermentation will begin within 1-2 days. You will notice bubbling on the top of the honey & cloves as pictured below.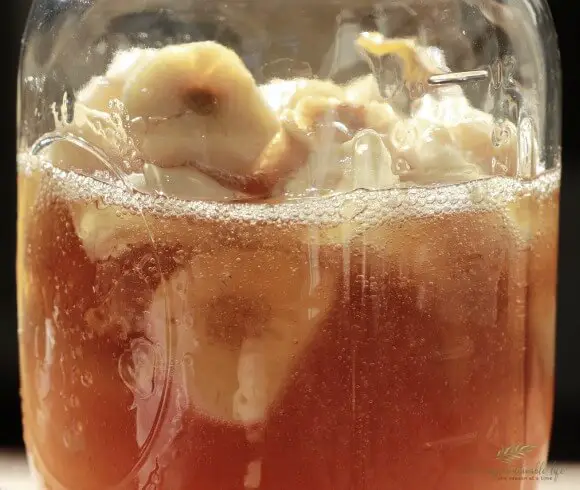 Every couple days, screw the lid on tightly and turn the jar upside down to coat the garlic cloves with honey. Don't forget to screw the lid on tightly or you will be cleaning up a mess. I may or may not be speaking from experience here 🙂
Turn the jar upright, loosen the lid, and let it continue to ferment for up to a month.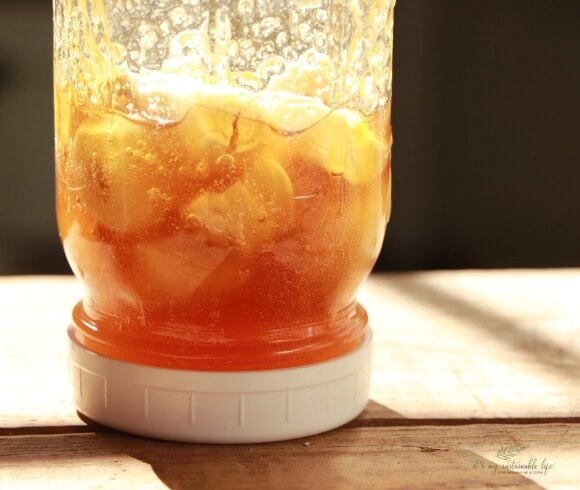 The honey is ready to use anytime, but we like to let ours marinate for a while. Over time, the honey will begin to darken and thin as the flavors are infused together, the garlic will begin to sweeten and lose it's pungency, and the benefits of fermentation will be readily available to use.
HOW TO USE HONEY FERMENTED GARLIC
Honey fermented garlic has many uses, both medicinally as well as in meal preparation.
Medicinally simply eat the fermented clove of garlic along with a bit of the honey straight from the jar as an immune booster when feeling run down or ill. When dealing with sore throats, add it to a bit of lemon juice and take as needed. Make a soothing "tea" by adding a bit of cayenne pepper & lemon juice along with the honey garlic to hot water to ease seasonal virus symptoms.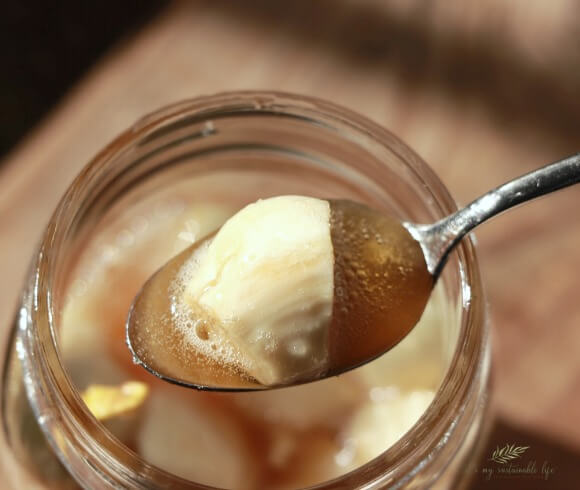 To use in meals, add it to any foods you can imagine that would benefit from the flavors of both honey & garlic. Marinades, bbq sauces, salad dressings, and roasted vegetables are all good ways to put this healthy ferment to use.
SHOULD I BE CONCERNED WITH BOTULISM IN HONEY GARLIC?
Botulism is rare. That being said, it can be fatal. Botulism, caused by the bacteria Clostridium botulinum, targets the nervous system & can lead to paralysis and respiratory failure.
When food is consumed that contains this bacteria may be the most common way humans contract botulism, but it also can be present in spores (breathing it in), in soil (coming into contact with it), and through open wounds (can contract it).
According to the World Health Organization (WHO), botulism toxins "are one of the most lethal substances known". Fortunately for us, person to person transmission does not happen.
Although honey has been known to be the source of about 20 percent of botulism cases, the process of fermentation when making honey fermented garlic or fermented honey garlic makes this ferment a safe one to consume as the botulism spores just don't like the environment.
So rest easy. This easy to make & safe to consume, honey fermented garlic, is a staple in our home. Hopefully, you too can give it a try!
Have you tried making honey fermented garlic yet?
Love, Light, & Laughter ~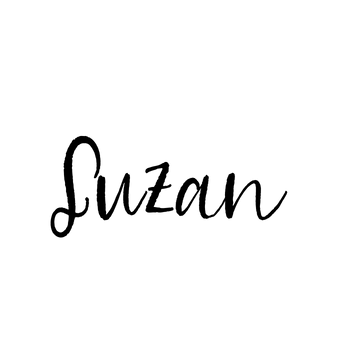 Enjoy this article? Please consider sharing it on your favorite social media channel! Want more? Subscribe below for the occasional update with all the "happenings on the hill"!
Have You Seen The Latest?